Exciting news to share!
Tonight one of our own, namely Qinisani Mbatha (Q), will be participating as one of the distinguished guests in this year's CEO SleepOut™ event taking place at Johannesburg's Liliesleaf Farm. This event also marks what would have been Madiba's 100th birthday celebration.
The CEO SleepOut™ Trust's goal is to receive donations from third parties in relation to The CEO SleepOut™ Events, to provide funding and support services, and to ensure the funds are disseminated to the appointed Primary Beneficiaries with absolute transparency and accountability.
It will be Q's first CEO SleepOut™ event and he's bracing himself for the freezing cold highveld weather. Despite the cold though, Q is looking forward to enjoying a spirit of ubuntu with fellow business people. This experience will allow them all to have greater empathy when it comes to homelessness in South Africa.
Let's give our support to Q while he and others #RiseToTheChallenge!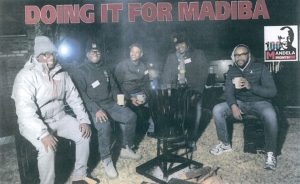 Bosses of companies join CEO SleepOut event to celebrate Mandela's 100 years at Liliesleaf:
Pic from The Star dated 13 July 2018 of L-R:
Qinisani Mbatha (MW&S)
Tollo Nkosi (Umso Construction)
Max Boqwana (Thabo Mbeki Foundation)
Monty Ditibane (DBI Consulting Engineers)
Richard Ndlele (Viewtag)